For those who have heard of the infamous but very tempting game, finding out how to find or where to buy the Cards Against Muggles may be the hardest part of getting to own it.
Well, in such a case, we are here for you with all the necessary information you need in this regard.
Buying the game in an all-ready version is not possible anymore, as it is not an official version of the original game "Cards Against Humanity". The game has, in fact, been created by a few diehard Potterheads, with a really dark and dirty sense of humor, and as such, it is not the game that is not available to buy.
Fans of the Harry Potter books or movies wishing to get the game must print it themselves, at home if they have the tools, or at someplace offering printing and photocopy services.
However, things may not be quite as simple as they sound at first. Getting the game and going at a photocopy place to print may sound like a very easy task, but there is some important stuff to know about it. Those that have tried to print the game without getting any prior advice, are aware of what we mean by this.
Following finding some important tips regarding how to print and cut the Cards Against Muggles and Cards Against Disney and all other Cards Against Humanity (CAH) Editions.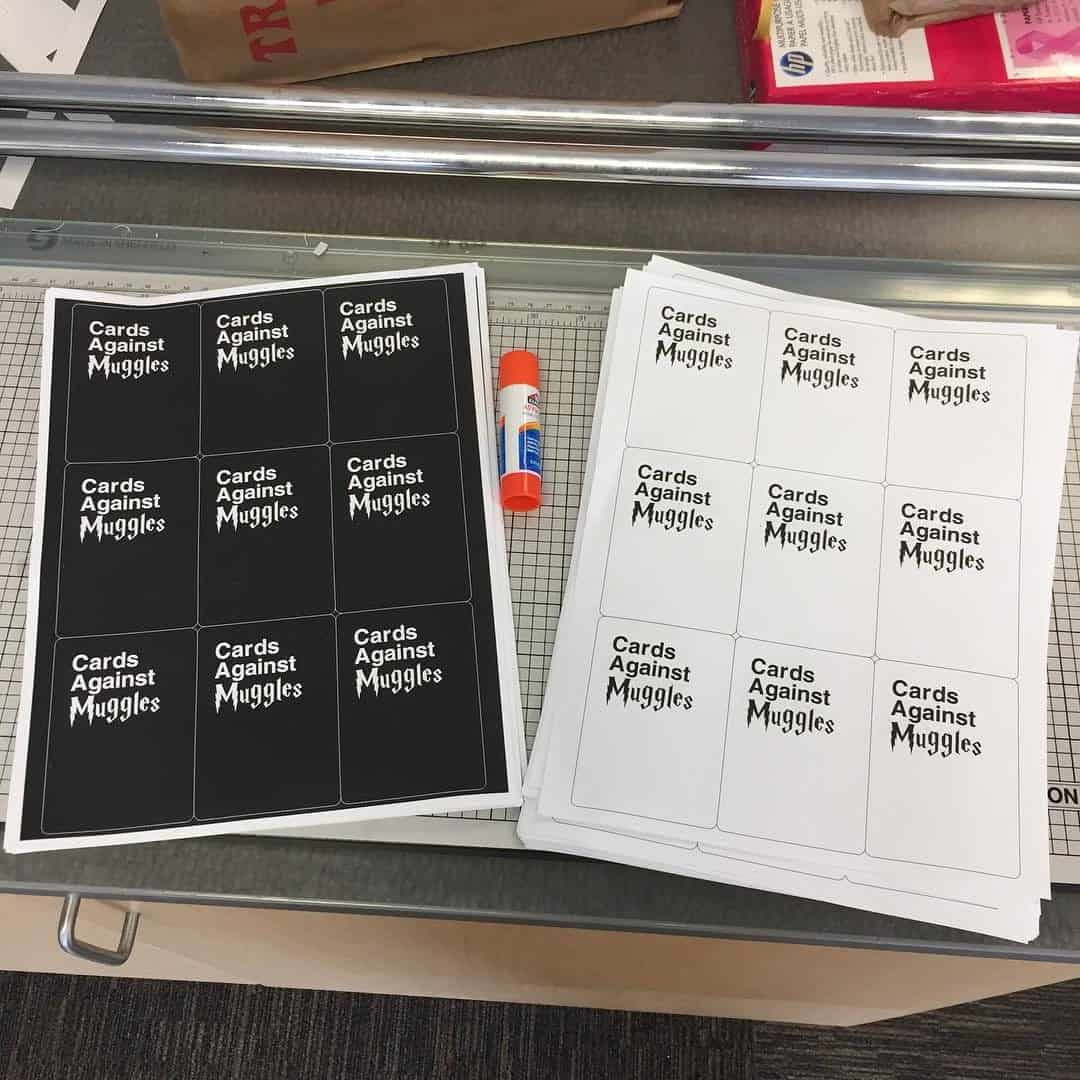 Finding the Right Photocopy Place
First of all, before wondering how to print and cut Cards Against Muggles, make sure you find a photocopy place that will permit you to stay there a bit longer, as printing this game can take quite some time. In addition, if they have a cutter and you decide to cut the cards at this place, get ready to be there for at least one hour to finish all the process.
Make sure that this place owns a good printer, and have a thick paper to print your cards in it. You'll see why these two are mandatory within two minutes.
A Good Printer is Compulsory
If the photocopy place you have selected does not own a printer that prints clearly, change it for somewhere else. If the cards come out looking washed out, with little white or black dots or lines, the game won't be as fun as it is supposed to be, as these defects will draw the attention of the players.
Try printing a page with some random notes of it, to check the printing quality, before printing all your cards.
Thick Paper or Don't Even Bother
If it is not possible to print the game on some thick paper, do not even bother printing it. We suppose you are not trying to print this game for a single-use, and even if it is so, printing the game in some paper that is not thick enough will make it impossible to play.
Papers will continuously crumble, or if you have some sweaty-hands friend, they will shrink and fade out.
Whereas, in thick paper, or some plastic-like paper they will last longer, and you will be able to play it whenever you want with fellow Potterheads. If you are looking out for a recommendation, a white 280-310gsm linen paper would be a perfect fit for this game.
Get the Right Dimensions
Some printers may print the cards in a smaller size than their original size. Make sure each card is 2.5 inches wide and 3.5 tall, as printing them in smaller sizes may be uncomfortable for those with huge hands. Lol.
Print the Cards in Color Mode, If Possible
These cards are only black and white. However, if you set the printer at its color mode, and not the white and black one, you'll get a nicer black in your cards. Try convincing those working at this place to do it for you without additional costs. If they accept, you will get better results. If not, black and white will still be cool.
Now Cut Them
Now comes the very delicate part of how to cut Cards Against Muggles. As a wizard that you are, you can just swish and flick your magical want whispering "cuttio" and all your cards will be rightly cut. Or you can go the muggle-y way, and cut them by hand.
If they have the tools at the photocopy place, it would make things easier for you. Check if they have a metal ruler and a cutter. Make sure you place the rules straightly over each paper and cut them with utmost care.
If this place doesn't have the tools or the guys there don't want to let you use them, cast a Rictusempra spell on them and go home. Cut the cards with some scissors instead.
Place Them in a Box
If you want these cards to be lasting, place them in a box. You can place them in a box that you already own, or make one in the size of the cards, so they will perfectly fit.